It is estimated that presenteeism costs employers every year €15 billion, while absenteeism accounts for a 29.5% loss in productivity (EUROFOUND). According to The Sainsbury Centre for Mental health (2007), prevention and early identification of problems could enable employers to save 30% or more of these costs.
The Work Trend Index report (2021) analyzed productivity data from Microsoft 365 and LinkedIn to find that up to 67% of employees were struggling or surviving at work, establishing a solid empirical link between productivity and employee wellness.
The advent of data analytics and the proliferation of wearable devices has given rise to employee wellness platforms. These can be valuable tools in keeping employees happy and healthy so they can always be at their best at work, increasing their overall engagement with their employer and feeling of fulfillment.
This article explores the best corporate wellness platforms (based on rankings on the software reviews websites Capterra, G2, Software Advice, GetApp, and TrustRadius) providing a brief outline of their features.
1. Wellable
Wellable operates wellness challenges and health content technology platforms and complements these solutions with on-site services, such as fitness classes, seminars, and health coaching. The platform allows organizations to customize and configure a program to meet their needs and objectives while providing a rich experience for end-users.
Wellable works with employers and health plans of all sizes across the world.
2. Movespring
MoveSpring is an activity and steps challenge platform for companies. The user can connect a wearable device or smartphone to track their activity, which syncs in real-time to the platform's native iOS, Android, and web app.
To support the creation of wellness programs, there are nine challenge modes, customizable content, friends, and chat. The platform also allows running reports and monitoring group progress over time through their proprietary Admin Center.
3. Woliba
With Woliba, organizations have a mobile-friendly wellness, engagement, and recognition program with automated communication and real-time data and analytics. Woliba enables organizations to consolidate multiple systems into one platform. The results include reduced time and cost in managing the corporate wellness program and a better employee experience.
4. Virgin Pulse
Virgin Pulse is a digital wellness platform that combines wellness, condition management, and benefits in a unified location. It offers live coaching and guidance to help users suffering from stress, depression, anxiety, pain, and chronic diseases, all as part of a more comprehensive wellness platform.
Pulse engages and supports employees through a targeted wellness app, leading to employee empowerment and reducing healthcare costs.
5. Limeade
Limeade is a corporate wellness technology company that enables employee engagement for large enterprise clients. It takes a whole-person approach to wellness, amplifies an organization's commitment to its employees, and delivers innovative technology that fits how people work today.
Employees can use their mobile application to earn points and rewards for taking steps to improve, while employers experience better business results, which they can follow through a dedicated web-based wellness platform.
6. Burnalong
Burnalong is a health, wellness, and fitness platform focused on bringing employees and their families, choice, social motivation, and personalization in their digital wellness journey.
With a library of 13,000+ live and on-demand classes spanning over 45 wellness categories delivered by more than 2,000 diverse instructors, BurnAlong ensures each employee receives personalized content suggestions through machine learning tailored to fit their unique wellness goals.
7. Metta
Metta is a corporate health and wellness platform - targeting Latin American companies - that reconnects teams within an organization. It delivers higher employee and team engagement with recurring virtual Team Building activities and innovative functionalities that generate actual results.
Metta's platform is a SaaS offering combining a web-based app (admin) and a mobile app for employees.
8. Optimity
Optimity is an adaptive employee success and wellness platform. It is designed to engage employees and reduce costs for employers. Optimity provides a mobile-first experience for employees using the science of micro-habit coaching. Its apps sync with the employee's existing channels (activity tracker, calendar) to form small, healthy micro-habits. Human resources leaders use the Optimity administrator panel to launch Health Risk Assessments and report return on investment.
9. Vantage Fit
Vantage Fit empowers organizations to create and launch their workplace health and wellness program to encourage employees to take up a healthier lifestyle.
The Vantage Fit app packs in various features like step count, nutrition tracker, calorie counter, and track many other activities like running, etc. The app is available for both iOS and Android platforms. Employers can run their own customized employee health campaigns and incentivize the employees while monitoring the impact of any wellness-related initiative they undertake.
10. Wellness 360
Aiming to help organizations promote a healthy and better-engaged workplace, the Wellness360 platform is a corporate health and fitness program that offers tailor-made wellness solutions with Health Risk Assessment (HRA), coaching, personal & group challenges, events, etc. The platform that runs on both iOS and Android smartphones comes along with a rewards engine to encourage better engagement among the users and a tracker to monitor the progress.
Conclusion
Employee wellness is a necessity, and with so many corporate wellness companies to help you on your organization's wellness journey, the selection can be a daunting task.
Thankfully, technology enables the availability of a variety of different employee wellness platforms with varying mixes of features and offerings. From simple activity monitoring to data analytics, machine learning, and gamification, current and emerging offerings address corporate and employee wellness differently.
When thinking about ways to keep your employees healthy and happy, we hope the above has been helpful!
Sources
The research for this article was completed on February 8, 2022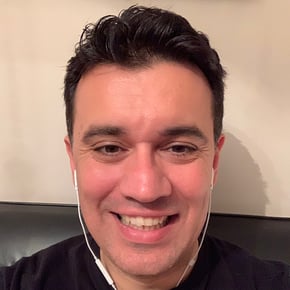 Dimitris Vassiliadis
Dimitris is the Co-Founder and CRO at Wellics. He has spent most of his career in the technology sector, improving people's lives at scale. Although constantly on the go, he never skips a workout. Say hi or connect on Linkedin.